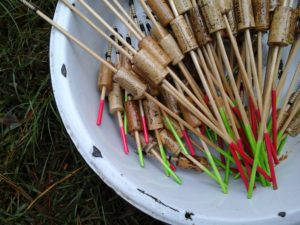 I wrote an article for SHOUT Outdoor Lifestyle Magazine titled "Old Becomes New." You've seen my fishing floats. They look old, like something from yesteryear, yet they function as something new, a simple, elegant design reminiscent of childhood times on the river with your dad, uncle or old friends. The theme for the March/April edition of SHOUT! is old things becoming new. Check it out.
http://www.shoutlifestyle.com/old-becomes-new-hfs
Special thanks to Matt Evans who gave me a chance to write for SHOUT! and to Brad Bloom for producing such a great magazine that combines Christian faith with outdoor lifestyle. Some people think Christians can't have fun, but true fun is in seeking beauty, and the ultimate beauty is of God.
http://www.shoutlifestyle.com/old-becomes-new-hfs
Of course thanks to Jesus Christ who came to earth, was tortured and died an unjust death, buried in a rich man's tomb, and after three days rose again to bring new life to an unjust people. Anyone who is willing to trust Him will live.
Good times, tight lines!
Damon
P.S., Here's the link: http://www.shoutlifestyle.com/old-becomes-new-hfs