If I had a daughter her name would be Dorian or Ingenuity. Dorian from its musicological perspective is an interesting name, but Ingenuity personified is like Solomon's personified Wisdom.
Here's what I mean: Note the picture of the Red Swamp Crawfish in the link: Red Swamp Crawfish from Wikipedia.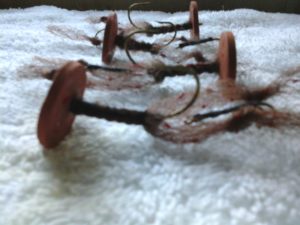 Note the homemade crawfish pattern in the attached photo. The photo was tied on my fly-tying vise the previous evening. Ingenuity?
Thinking of next season's fishing, I've decided to go with more tried-and-true methods. A tournament bass fisherman once told me that the Black Warrior River is great for spotted bass. I've caught several spotted bass in those waters trolling/dragging artificial lures behind the boat.
Spotted bass are much like smallmouth bass, and smallmouth bass love eating crawfish.
Back to the fly-tying vise. Normally I find patterns and recipes for such lures by searching online, but this time Ingenuity whispered.
"Do your own thing."
It was so tempting to find a list of instructions, some YouTube video, blog post, or some set of plans that would tell me everything to do. No.
"You can do it. Study. Learn. Create."
Ah, from the mouths of babes! I really believe that in every daughter is the potential to become the queen mother.
The Alabama Department of Conservation has an incredibly detailed log of animal species living in our waters. The red swap crawfish prevails in the Black Warrior. The river bottom above downtown Tuscaloosa is rocky because it is the true beginning of the Appalachian Mountain chain. Crawfish love rocks.
The picture above and fly-tying technique guide were the only references used in making the fly. For two days I observed the photo, noting its color and body shape, its coffee brown body, auburn legs, red polka-dotted pincers, eyes, tentacles and tail.
I bought no new materials, used only what was on hand. Yard for a body, bead chain for eyes, silicon legging for the legs, and brown black widow flash for pincers and tail.
Not to bore you to death, but you see the end result. A great relief and modest smile crept onto my face once finished.
Ingenuity was right. She is Wisdom's hand-maid. When Wisdom's house is cluttered, Ingenuity straightens it. She knows how to make more than what she has been given.
She creates. She thinks. She overcomes. She makes problems flee. All those who see her know that she is adorned in sapphire lace. She is strength to a solider and help to the helpless. She brings astronauts back from disaster, and she guides crippled planes to a soft landing on a river.
None is adorned like her. Even Wisdom admires her beauty.